Santorum comes from behind in Alabama three-way and Newt doesn't pull out after Romney comes third!!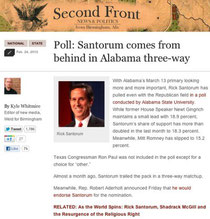 There is absolutely no way this headline wasn't intentional. Yes we added the "Newt & Romney" part but would love to hear your ideas on how to make this headline even better then it already is.
We at Atheist Parents are always trying to keep you up to date on the latest crazy ideas from the religious right and their mormon friends.