Answering those who believe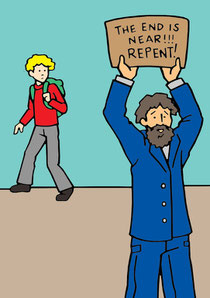 Certainly in the past and definitely in the future, if you are planning on raising atheist children then you, and they, are going to be confronted with dozens (if not hundreds) of people, some of them educated or in positions of authority, who are going to want to question your beliefs with their hocus pocus. Obviously we here at atheistparents.org believe the best defense is a good offense, so we have put together some of the best things to say when confronted by those who hope for an eternity of saying thank you to a celestial North Korean-like dictator.
 
The purpose of this page is to give atheist parents simple arguments as to why there is no possible way that we could imagine raising children with telling them stories and trying to give them guidance using the Bible, Koran or Book of Mormon as a moral compass.


Your comments or critiques are appreciated and there is a section below where you are able to tell us your thoughts. (Hell wishers:  Please use the webpage Hate Mail & Hell Wishing  where we will not delete your comments and leave them up for everyone to see. This page is for us.) 
The Ten Commandments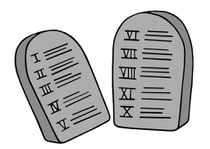 Many Christians believe that without the Bible they would not be
able to understand this world or the difference between right
and wrong. Yet there are some major problems with the
commandments which guide Christian morality. Let's take a
look at what they really say:
1. Thou shalt have no other gods before me.
Essentially this means that unlike the Muslims who believe in
only one god, Christians can have as many Gods as they
please as long as there is a big main god, like the Greeks' Zeus,
with a pantheon of lesser gods under him. If you actually look at
this law, you'll see that the Christian god actually recognizes the
"existence" of other gods.
2. Thou shalt not make thee any graven image, or any likeness of any thing that is in heaven above, or that is on the earth beneath, or that is in the waters beneath the earth.
Christians actually hate this one, because those pictures of
Jesus or of God, or of the holy gates, or Saint Peter, or Hell -- all
the wonderful pictures in kids' Bibles and stories, mean that
those who read them will not go to heaven. Remember, this is
a commandment!
3. Thou shalt not take the name of the Lord thy God in vain: for the Lord will not hold him guiltless that taketh his name in vain.
This could mean that just saying "thank god" or "goodbye"
(which actually comes from the old English "God be with you") is
sinful. It could also mean that saying "Jesus H. Christ" is fine
because it doesn't refer to the big, main god.
4. Keep the Sabbath day to sanctify it, as the Lord thy God hath commanded thee.
The Sabbath is Saturday; ask any Jew!
5. Honour thy father and thy mother.
Actually a good commandment, but one Jesus really didn't like
very much:
"If any man come to me, and hate not his father,
and
mother...he cannot be my disciple."
(Luke 14:26)
6. Thou shalt not kill.
Fair enough, but do you actually think civilization would not
have made it this far without this law, even if it hadn't been
literally etched in stone? It doesn't help that on the very next
page Moses orders the slaughter in god's name of everyone
who was worshiping the Bull. So can you kill those who believe
in something you see as wrong?
7. Thou shalt not commit adultery.
Including Rape? Judges 21: 10- 24 I guess that is okay?
8. Thou shalt not steal.
Once again, this only holds true unless you steal from
those who worship a different god!
9. Thou shalt not bear false witness against thy neighbor.
It doesn't say thou shalt not lie -- lying seems to be fine, just not
in court when under oath. Other than that, god has no problem
with it.
10. Thou shalt not Covet...
Google the word Covet: to desire wrongfully; to wish for eagerly.
If your neighbor has a new car and you say to your wife, "I wish
I had a new car!" You are going to Hell!
The thought that Christians actually think that these
commandments actually guide them to understand the
difference between right and wrong is amazing. Where is the
commandment against rape? It isn't there! Where is the
commandment against genocide? Where is the commandment
against child abuse? Abraham would have been happy they didn't have that one, and
if Issaac were alive today he would be in foster care. How about
the commandment against selling your daughter as a sex
slave? Nope! And Christians want the Ten Commandment
s
posted in every classroom and recited every day?
Imagine, Christians want the thought of a celestial dictatorship,
someone who could watch over you, read your thoughts, and
punish you for those thoughts, sort of like a celestial Kim Il Sung.
Do you have a comment? We would love to hear them!